Buying valuing selling business brokers agent Eastern Sydney
If you have been thinking about selling your business, then why not talk to us. If you are after the best return on your business, talk to us. We have sold many businesses for people just like you. You will find we are different from most business brokers. In that we take the time to get to know your business. This enables us to market your business to its full potential. Our marketing reach will put your business in front of more buyers. To learn more about what we can do for you, contact us today for an obligation free consultation.
Looking at Buying a Business
If you have been thinking about buying a business, there is no time like now for action. We have hundreds of great businesses listed with us. Our businesses are over most of Australia and we have helped put people just like you into our listed businesses. We get referrals from both our buyers and sellers. Our business is growing at such a fast rate, so we must be doing something right. Why not call us today and register with us? We would like to put you in on of our fantastic businesses. Our job is to make the process easy for you.
AAA Market Services are your local business brokers, with years of experience in helping people buy and sell businesses. We trade as Network Infinity and have hundreds of great businesses for sale. Our network covers most of Australia. Contact us for some expert advice and let us help you through the difficult task of buying or selling a business.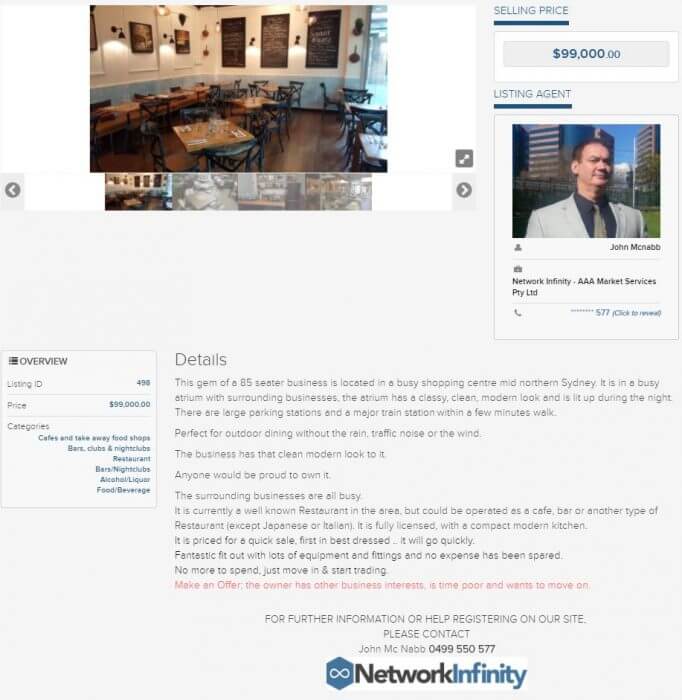 Fantastic businesses for sale
References
Talk to us today for some expert advice 0499550577.
Google reviews