Buy value sell business broker agent Melbourne Victoria
AAA Market Services
Buy value sell business broker agent Melbourne Victoria
Even if you are not in Sydney or New South Wales, we can help you buy or sell a business. We are part of a network on business brokers that service Melbourne and Victoria helping people just like you buy or sell a business. Why not let us help you find an expert business broker? Our network or brokers work together to help each other sell businesses, I guess that gives us the edge and helps us sell more businesses. Every year our network of brokers help thousands of people just like you buy or sell a business. Why not give us a call today, to learn more about how we can help you?
Master Franchises for Victoria
We have a selection of master franchises on offer for Victoria. If that's what you are after then I can help you, why not give me a call today. A franchise can be a great way to get into a business. You get a turn key business with a successful model and the help of a motivated franchisor. Some of them are simple to operate and you are your own boss. It could be the ticket to your freedom and an income based on yours and others efforts.
AAA Market Services Business Brokers
AAA Market Services are your local business brokers, with years of experience in helping people buy and sell businesses. We trade as Network Infinity and have hundreds of great businesses for sale. Our network covers most of Australia. Contact us for some expert advice and let us help you through the difficult task of buying or selling a business. We are experts in getting seller a great price for their businesses. Why not start a conversation today, it will cost you nothing. It may save you lots of money.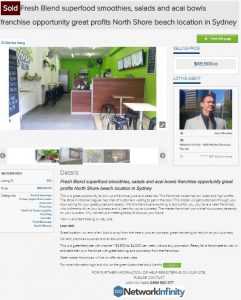 Buy value sell business broker agent Melbourne Victoria.
References
Talk to us today for some expert advice 0499550577.