Buy value sell business broker agent Parramatta Sydney
AAA Market Services
If you have been talking for ages about to selling your business? Why not take the first step today and give us a call? We offer no obligation free consultations, where we go through the process, step by step. If you don't know it AAA Market Service trading as Network Infinity is one of Australia's leading broking firms. We have hundreds of businesses on our books and a fantastic marketing network. That would put your business in front of more buyers. To learn more, pick up the phone and ring us today, it could save you time and money.
Looking at Buying a Business
If you have been talking about starting or buying a business for ages and have done nothing about it. Why not talk to Australia's leading business brokers? We have hundreds of great businesses for sale, one of them could be perfect for you. After talking to us we can guide you through the process, short list businesses you may be interested in. We have such a wide range of business, some you may not know exist. Our conversations are always up front and honest, rather than telling people what they might want to hear. Why not get the ball rolling and call us today?
We are looking
We are looking for business owners that are looking to divest a business. Businesses that have got a good track record, ones that are easy for a buyer to transition into the business. Why not have a talk with us? We offer free consultations, even in lock down. Yes, even in lock down there are still buyers looking for great businesses and willing to pay good money for them.
Business for sale where?
What's currently in demand IT companies, food distribution, digital marketing, transport distribution industry, leisure entertainment, beauty health beauty, franchise business, cafe restaurant, accessories parts, air conditioning, service station, channels wholesale, building construction, professional services, home garden household, national distribution centre, legal firm, online business, existing restaurant, convenience store, health and fitness, franchise food hospitality, building and construction, office supplies, beauty salon, food beverage, shop retail, cafe coffee shop, industrial manufacturing, import export wholesale, commercial property, takeaway food, accommodation tourism industry, bars nightclubs and much more. To search view or find. Where business sale, business in Central Western Sydney, Gold Coast, Fairfield West, New South Wales and Australia.
If you have a business for sale in Central Gold Coast, New South Wales, Western Australia, Victoria, South Australia, Northern Territory or Australia location.
An example of a business listing
The cafe' is situated in an inner western suburb surrounded by waterfront high rise unit blocks. The area is an expanding riverside suburb with a cluster of businesses and a pub nearby.
The cafe is set back from the road, with two shaded outdoor seating areas and one inside. The cafe is spacious, with an upstairs area which is currently rented out.
The front outdoor spot is shaded, the back outdoor spot provides a beautiful private setting for up to 30 (great for a function), whilst inside the Cafe provides seating for up to 20.
When you walk in the beautiful smell of fresh coffee makes you feel at home. The clean modern and streamlined layout provide a pleasant environment for customers and staff.
The kitchen layout is well thought out with a very large walk-in cool room, the kitchen is set up to do some serious cooking.
This business is in a growth area with huge potential to provide an operator with a comfortable living whilst maintaining a great quality of life.
This business has so much potential - catering, opening for the dinner trade, home delivery, gelato, increase sales of cold meats and other deli products.
Be quick as this business will go quickly.
The owner is open to offers and is quite flexible for a walk-in walk-out out offer.
For more information login and click on the green button that looks like this
FOR FURTHER INFORMATION OR HELP REGISTERING ON OUR SITE,
PLEASE CONTACT
John Mc Nabb 0499 550 577
Business Brokers
We are your local business agents, with years of experience in helping buyers and sellers of businesses. We trade as Network Infinity and have hundreds of great businesses for sale. Our network covers most of Australia. Email or phone us for some expert advice and let us help you through the difficult task of buying or selling a business. We are experts in getting seller a great price for their businesses. Why not start a conversation today, it will cost you nothing. It may save you lots of money.
Do you have complimentary consultations?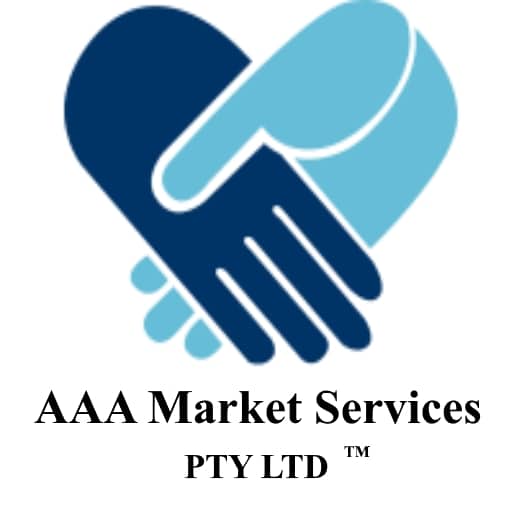 Yes, we do phone us now.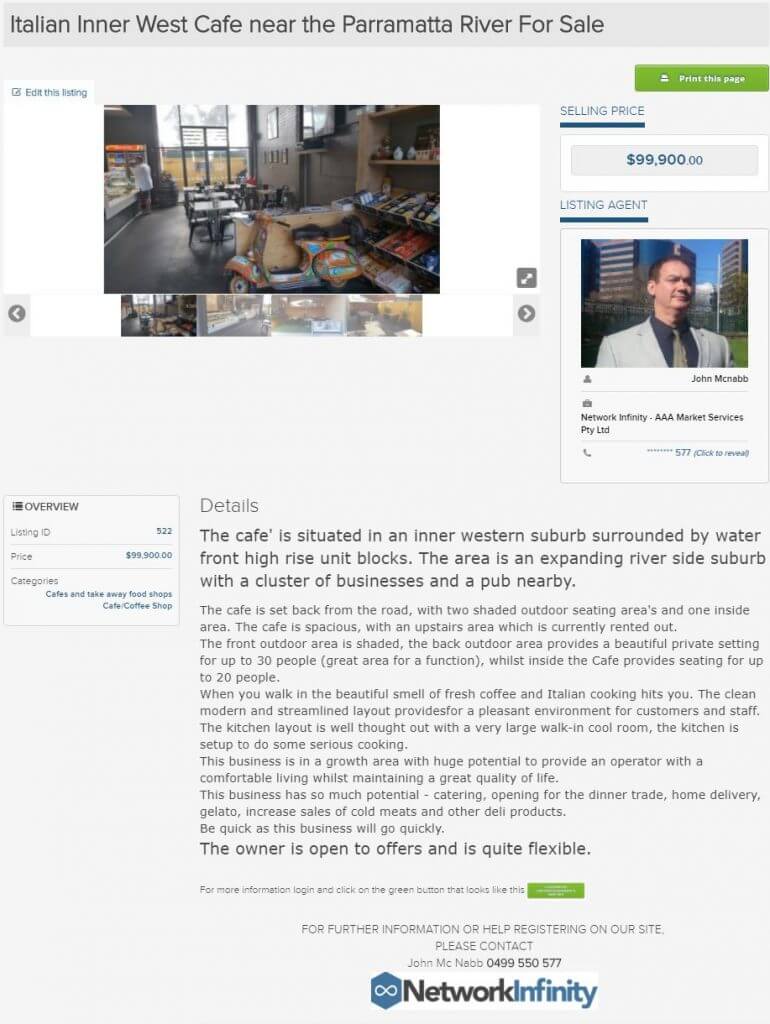 If you are looking to acquire or divest a business, talk to us first
Fantastic businesses to sell we do the hard work for you
References
Talk to us today for some expert advice 0499550577.
What is for sale?
health hub what is a health hub it's a place that looks after your overall health for sale in Parramatta NSW
takeaway in the heart of Parramatta key features of this opportunity fully equipped kitchen
import export business key features of this opportunity great net profit long established for sale in Parramatta NSW
and more
Some things you need and experts like brick laying and selling businesses, we are your experts that can help you.
AAA Market Services Pty Ltd Business Brokers trading as NetworkInfinity
6 Osborne Road,
Greenwich, 2065
Sydney, Australia
Phone: +61 (0) 499 550 577
AAA Market Services business brokerage Sydney, is an Australian owned and operated company which when acting as a business agents, trades as Network Infinity. The company is a registered broker company that helps a seller or buyer of businesses.