Sell business broker agent Ashfield #1 buy value opportunity
AAA Market Services
If you are looking for a powerhouse broker. You can find it here, we are experts in selling businesses. Be it hospitality, alcohol, hotels, motels and any other business.
Our Fees
Our fees are simple with no hidden fees or charges. We change a very low upfront fee with no more to pay until sold. It really is that simple.
Our Reach
We cover all of Australia, we are not just a local business broker. We put your business in front of more buyers. By advertising where the buyers are looking for businesses. We don't just put a listing in a shop window and our own website. It really is that simple.
Learn More?
To learn more why not have a chat? And see how we can help you in or out of a business. That really is our bread and butter.
Business for sale where?
What's currently in demand in Sydney, IT companies, food distribution, digital marketing, transport distribution, leisure entertainment, beauty health beauty, franchise business, cafe restaurant, accessories parts, air conditioning, service station, education training, channels wholesale, building construction, professional services, food outlet, national distribution, online business, health and fitness, food hospitality, building and construction, office supplies, beauty salon, food beverage, home based, shop retail, cafe coffee shop, industrial manufacturing, import export wholesale, commercial property, takeaway food, accommodation tourism, bars nightclubs and much more to search.
If you have a business you would like to sell in Sydney, Newcastle CBD, Port Stephens, Newcastle region, Lake Macquarie, Hunter Valley, New South Wales, Western Australia, Victoria, South Australia, Northern Territory or Australia.
Lower North Shore Convenience Store Going For A Song For Sale In Sydney
This convenience store has got it all, wonderful business model, stunning location, affluent suburb about to boom. The business is situated between North Sydney and St Leonards which is about to get a second train station.
We all know what that means, new developments. The owner of the business also owns the property, so a superb lease is not a problem. The owner is also open to consider other businesses and remove the stock.
So if you are after a amazing location this is it. Why not start your new business here, it's at a really low price to encourage experienced people to run the business. At the end of the day the owner wants a good long term tenant that has a good business and will pay the rent.
She is not after an empty shop, which makes this a stunning advantage for someone.
Location main road
Cheap rent
Dealing directly with the landlord
Wonderful businesses
High visibility
Training
Internet, parcel, ATM and much more, owner would consider other business use in return for long lease.
Don't delay, this was on the market for $99,000. The owner is keen to sell as driving to and from the shop is almost a full time job.
Flexible owner, best location. make an offer this won't last long!
Open to offers
Walk in and start trading
To learn more
For more information login and click on the green button that looks like this 
FOR FURTHER INFORMATION OR HELP REGISTERING ON OUR SITE,
PLEASE CONTACT
John Mc Nabb 0499 550 577
Business Agents
AAA Market Services are your local business agents. With years of experience in helping buyers and sellers of businesses. We trade as Network Infinity and have hundreds of amazing businesses for sale.
Our network covers most of Australia. Email or phone us for some expert advice and let us help you. Through the difficult task of buying or selling a business.
We are experts in getting sellers a great price for their businesses. Why not start a conversation today, it will cost you nothing. It may save you lots of money.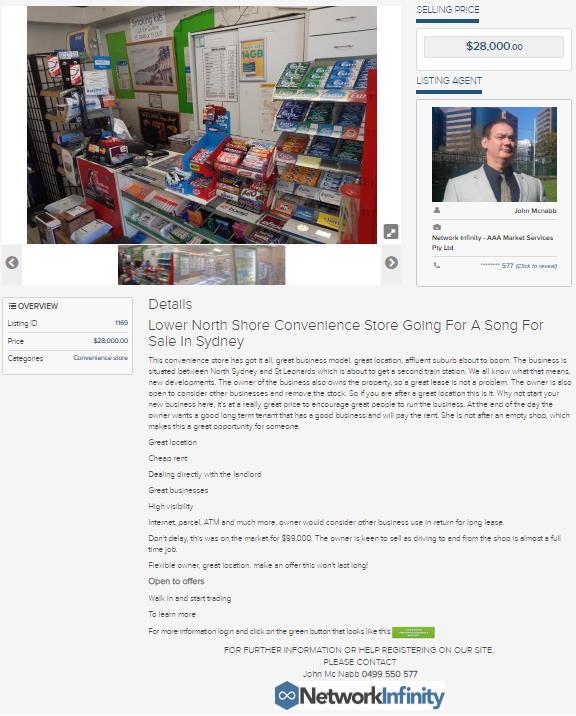 Business Owners
Why not advertise your business here?
References
Why not ring us today 0499550577?
We offer free consultations, so what have you got to lose? Very low upfront fees and commission on the sale of your business. It really is that simple.
Other businesses for sale
real estate business for sale in Ashfield NSW
dry cleaning shop retail near Ashfield Mall for sale in Ashfield NSW
medical consulting for sale Croydon Park Australian family run
award winning cafe Inner West fully licensed retail food servicing surrounding suburbs
espresso bar great net profit for sale Dulwich Hill
and more businesses for sale
Do you have complimentary consultations?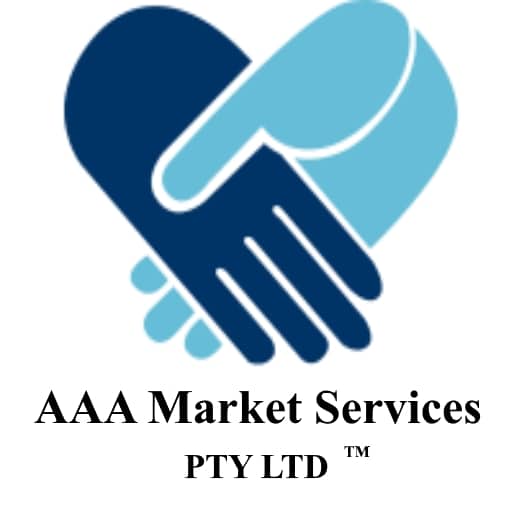 Yes, we do phone us now.