Sell business broker agent Blacktown 1 value buy opportunity
AAA Market Services
Sell business broker agent Blacktown 1 value buy opportunity
Sell business broker agent Blacktown 1 value buy opportunity. Thank you for finding us, we are part of a group of business brokers that help each other sell business. This is my company but I trade as Network Infinity, this is the network I am part of. It is one of the fastest growing firms of business brokers in Australia.
Why? because we do what we do well, we go that extra mile for our customers. We offer customised service, you are not a number, you are a valued customer. If you are looking at buying of selling a business in Australia. We are the go to brokers, that make selling your business easy. Why not call us for an obligation free consultation?
Adventure fashion sportswear and personal grooming products company
This is an Australian owned company, established five years ago. The owner is looking to sell all or part of the company. To date, the owner has funded it to the tune of ~ $1M. It is now a recognized brand name in the sector. Ideally, the owner would like help with marketing the brand and growing revenue.
The brand has recognised endorsements from sports stars
A great product range
Great customer product association
A fantastic online portal
What it needs is someone that knows how to market and grow a great product range.
To get more information and an IM, login and click on the Confidentiality Agreement below. According to Choice this is part of a $2.2 billion dollar sector.
For more information login and click on the green button that looks like this 
This is a great opportunity to get on the ground floor investment.
FOR FURTHER INFORMATION OR HELP REGISTERING ON OUR SITE, 
PLEASE CONTACT:
John Mc Nabb 0499 550 577
Other businesses for sale
fresh produce Indian groceries Western Suburbs Sydney business for sale in Blacktown NSW
Fantastic opportunity king of packs tobacconist business for sale in Blacktown NSW
food distribution Western Suburbs for sale Sydney in Blacktown NSW
car rental business for sale in Blacktown NSW
and many more businesses for sale
AAA Market Services Business Brokers
AAA Market Services are your local brokers, with years of experience in helping people buy and sell businesses. We trade as Network Infinity and have hundreds of great businesses for sale. Our network covers most of Australia. Contact us for some expert advice and let us help you through the difficult task of buying or selling a business. We are experts in getting seller a great price for their businesses. Why not start a conversation today, it will cost you nothing. It may save you lots of money.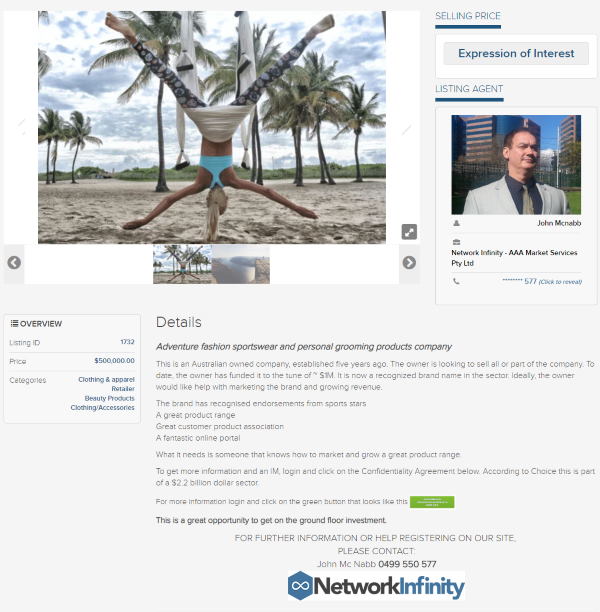 Sell business broker agent 1 value buy opportunity
We advertise here networkinfinity.com.au where you will find our listings.