Sell business broker agent Strathfield #1 buy value price
AAA Market Services
Sell business broker agent Strathfield #1 buy value price
We are your local business brokers with years of experance in helping people just like you buy or sell a business. Why not be one of them?
Where are we?
We are part of a group of businesses brokers that help each other sell businesses. We have offices in Melbourne, Brisbane, Sydney, the Gold Coast and will be opening more.
Experts
We are experts in hospitality, liquor, hotels, accommodation and many other businesses. We are not like your business brokers nearer to you. our marketing one of the reasons we are a powerhouse. We advertise where the buyers look for businesses.
Our Fees
We have no hidden fees or changes, a very low upfront fee and then no more to pay until sold. It really is that easy. Why not give us a call today?
Here is an example of just one business we have listed
This is an example of a owner doing the wrong thing and losing several buyers hence the low price.
If you are looking at relocating or opening a new restaurant this is it. Priced to go, it has a warm and friendly feel to it. It is highly visible to both foot and road traffic of which there is plenty.
It is situated on a busy road in an upmarket suburb on the Lower North Shore. There are a number of parking stations close by and it has good public transport access.
It has a full commercial kitchen which is fitted out for Asian style food, double wok burners and walk in cold room are some of the features. The restaurant is currently serving Asian cuisine and is staffed as such, there is a car park for your home deliveries.
The Asian Kitchen currently runs with, without the owner and the current staff are willing to stay. This is an ideal place to continue with the current menu or introduce your own and showcase your talents.
6 days closed Mondays
Situated in busy Restaurant belt
Car space
nice friendly feel
FOR FURTHER INFORMATION OR HELP REGISTERING ON OUR SITE, 
PLEASE CONTACT
John Mc Nabb 0499 550 577
AAA Market Services Business Brokers
AAA Market Services are your local business brokers. With years of experience in helping people buy and sell businesses. We trade as Network Infinity and have hundreds of great businesses for sale.
Our network covers most of Australia. Contact us for some expert advice and let us help you. Through the difficult task of buying or selling a business.
We are experts in getting sellers a great price for their businesses. Why not start a conversation today, it will cost you nothing. It may save you lots of money.
Other businesses for sale
real estate agent property manger business for sale Strathfield NSW
real estate agent property manger business for sale Burwood NSW
and more in New South Wales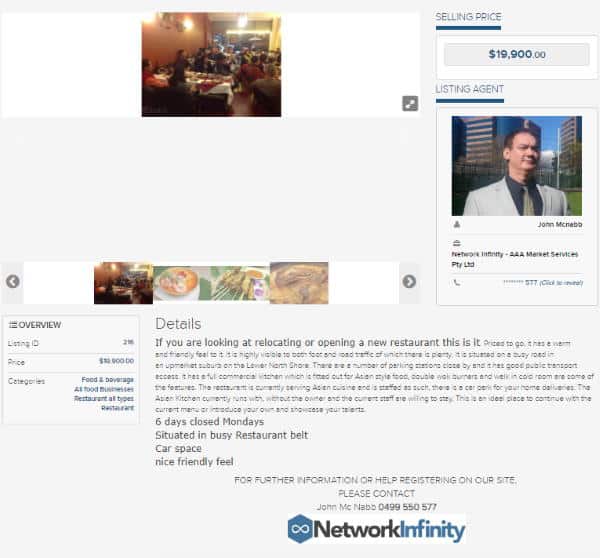 Sell business broker agent Strathfield #1 buy value price
Business Owners
Why not advertise your business here?
References
Why not ring us today 0499550577?
We offer free consultations, so what have you got to lose? Very low upfront fees and comission on the sale of your business. It really is that simple.