Sell business brokers agent Burwood #1 buy value opportunity
AAA Market Services
Sell business brokers agent Burwood #1 buy value opportunity
If you are living in Burwood and are looking to buy or sell a business. Do you really want to go to Joe Blow? Your local agent doesn't have the brokers. The reach to cover all of Australia. The marketing budget or the resources, that we do.
Our Network
Being part of a network of business agents, helps us sell more businesses. With us you get more than one broker trying to sell you business. When you work together you become more effective. You can see that when you see our sales. We have offices in Sydney, Melbourne, Brisbane and the Gold Coast.
Our Sales
If you look at the Network Infinity website, you will only see on market sales. Where we are also strong in off market sales. Which you can't see. Our market reach is second to none. We put your business in front of more buyers.
Straight Talking
We are straight talking and upfront with our customers. With us there is no BS or telling you what you want to hear. That's how we do business. We find our customers like that and give us referrals. As you may know word of mouth referrals are the best way to get new business.
We are a Powerhouse
We are very strong in alcohol, hospitality and accommodation businesses. You can see that for your self on our Network Infinity website. Why not go with the powerhouse of business agents? Call us today for a free consultation.
Our Fees
Our fees are straight forward, with no hidden fees or charges. We charge a very small upfront fee and then no more to pay until sold. It really is that simple.
Here is an example of just one business I have sold.
This restaurant is in the perfect spot. Just across the road from the beach. It has turnover in excess of $20,000 per week. Every week and it is going for a song.
Owning this restaurant is a lifestyle in itself. Picture yourself across from the beach. Every day serving great food and drink to happy and relaxed seaside visitors. What more could you ask for?
The restaurant is in top condition. It has a great kitchen, bar area, good storage and there is nothing more to spend. The food is great and it has a large regular customer base.
There is a full liquor license until 3 am. With eighteen years on the lease. Which makes it a secure investment. The staff have stated they are willing to remain. So its regulars won't even know it's under new management.
This is a fantastic investment, lifestyle, ticks all the boxes and won't last long. This is a must see.
Owing to the high profile of this restaurant photos and address are only available to NetworkInfinity users. Who have clicked on the "CLICK HERE FOR CONFIDENTIAL AGREEMENT & MORE INFO", To the right of the page and provide the required information.
FOR FURTHER INFORMATION OR HELP REGISTERING ON OUR SITE, 
PLEASE CONTACT
John Mc Nabb 0499 550 577
AAA Market Services Business Brokers
AAA Market Services are your local business brokers. With years of experience in helping people buy and sell businesses. We trade as Network Infinity and have hundreds of great businesses for sale.
Our network covers most of Australia. Contact us for some expert advice and let us help you. Through the difficult task of buying or selling a business.
We are experts in getting sellers a great price for their businesses. Why not start a conversation today, it will cost you nothing. It may save you lots of money.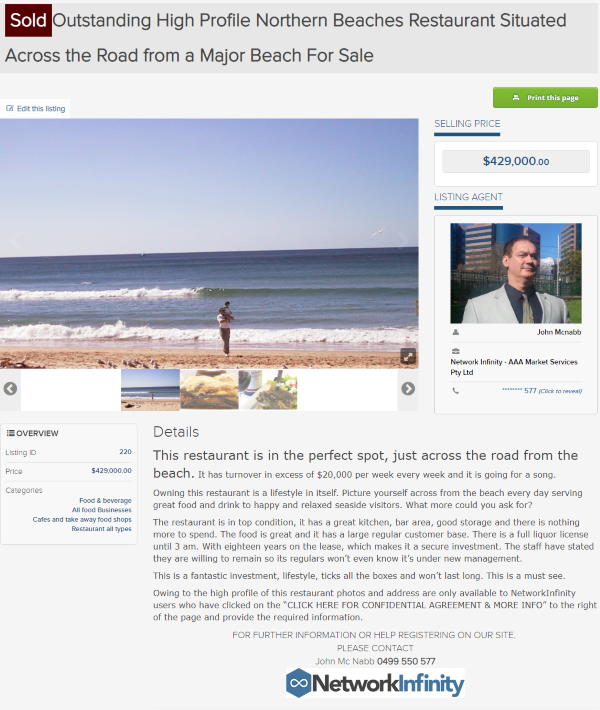 Sell business brokers agent Burwood #1 buy value opportunity
Business Owners
Why not advertise your business here?
References
Why not ring us today 0499550577?
We offer free consultations, so what have you got to lose? Very low upfront fees and commission on the sale of your business. It really is that simple.
Other businesses for sale
cafe takeaway business for sale in Burwood NSW
beauty salon business for sale in Burwood NSW
hair salon business for sale in Burwood NSW
franchise business for sale Burwood NSW
and more