Sell business brokers agent Homebush #1 buy value help
AAA Market Services
We sell many types of businesses. While our focus is on small professional businesses with turn overs of less than 30 million. We get all sorts of businesses coming our way. If it's a good business we will sell it, if we don't think we can sell it we will tell you.
Not all businesses can be sold. We will be upfront with you and tell you what we think and not tell you what you want the hear. That's the way we do business and we find that gets us repeat business. If you are thinking of buying or selling a business take to us first. We are Sydney and New South Wales go to business brokers.
Business sales
What's currently in demand in Sydney, IT companies, food distribution, digital marketing, transport distribution, leisure entertainment, health beauty, franchise business, cafe restaurant, air conditioning, service station, professional services, home garden household, national distribution, bakery cafe coffee shop, work from home, online business, convenience store, health and fitness, food hospitality, beauty health, building and construction, commercial real estate, takeaway food, clothing footwear, food beverage, office supplies, home based, industrial manufacturing, import export wholesale, accommodation tourism, bars nightclubs and much more. Where? businesses in Sydney, Gold Coast, Adelaide business, Melbourne business and Australia.
If you have a business for sale in Sydney, Gold Coast, New South Wales, Western Australia, Victoria, South Australia, Northern Territory or Australia.
Here is an example of one listed business.
Don't miss this opportunity for a 200 plus seat restaurant in an extremely affluent Lower North Shore Suburb. This gem of a business has style written all over it. It has lots of seats, low rent, high visibility, a large private dining area, two story car park at the rear, a good size kitchen and is ideal for any cuisine. If you are looking for a new business, grown out of yours or need to relocate, this one is for you. Picture yourself in this fine restaurant serving your fine foods to packed out rooms.
This place has so many pluses
High visibility
Large private dining area
Two story car park at the rear
220 seats
Large bar area
Good size kitchen
Car space
6 Days
Licensed
Walk in and start trading
It's got so much potential to stamp your mark on it, it's just screaming take me over.
The seller is motivated to sell ... has dropped the price to a give away ... no offers walk in walk out ...
FOR FURTHER INFORMATION OR HELP REGISTERING ON OUR SITE, 
PLEASE CONTACT
John Mc Nabb 0499 550 577
AAA Market Services Business Brokers
AAA Market Services are your local brokers, with years of experience in helping people buy and sell businesses. We trade as Network Infinity and have hundreds of great businesses for sale. Our network covers most of Australia. Contact us for some expert advice and let us help you through the difficult task of buying or selling a business. We are experts in getting seller a great price for their businesses. Why not start a conversation today, it will cost you nothing. It may save you lots of money.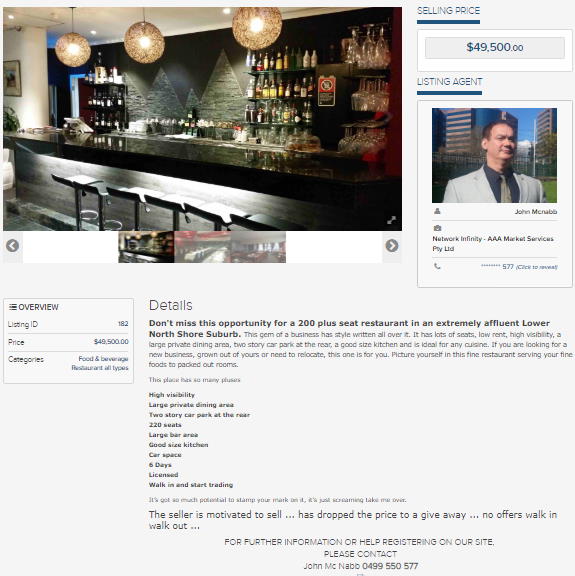 We advertise here Network Infinity
References
Why not ring us today 0499550577?
Other businesses for sale
Sydney Olympic Park shopping centre food beverage business for sale in Homebush West NSW
top location education training business for sale in Homebush West NSW
management rights shopping centre business for sale Homebush NSW
and more