Sell business brokers agent Newcastle #1 buy value help
AAA Market Services
Thank you for finding us, just because we are Sydney based doesn't mean we forget about Newcastle. We are part of one of Sydney's fastest growing group of business broker in Australia. We help each other sell businesses, I guess that's one of the reasons we are so successful.
We are AAA Market Services and we trade as Network Infinity. You have come to are personal business website. Our on market businesses are listed on the Network Infinity website.
Off market businesses are not listed and can make up a large proportion of the sales by value. What we sell on market is not a true reflection of our business.
If you are looking to buy or sell a business, why not come and talk to us first? We offer obligation free consultations. look forward to talking to you soon.
Business for sale where?
What's currently in demand in Sydney, IT companies, food distribution, digital marketing, transport distribution, leisure entertainment, beauty health beauty, franchise business, cafe restaurant, accessories parts, air conditioning, service station, channels wholesale, building construction, professional services, home garden household, national distribution, work from home, online business, convenience store, health and fitness, food hospitality, building and construction, office supplies, beauty salon, food beverage, home based, shop retail, cafe coffee shop, industrial manufacturing, import export wholesale, commercial property, takeaway food, accommodation tourism, bars nightclubs and much more.
If you have a business for sale in Sydney, Newcastle CBD, Port Stephens, Newcastle region, Lake Macquarie, Hunter Valley, New South Wales, Western Australia, Victoria, South Australia, Northern Territory or Australia.
Here is an example of just one of our businesses
This one is priced right and will go quickly
Established business and customer base.
Close to council car park and local businesses.
The possibilities are endless.
Large, light and airy feel.
5 Days trading, can easily turn into 7 or extend to dinning
Good size, 34 Seats inside and 10 outside
Walk in and start trading
Established business, current owner of 3 years
Owner keen to sell, needs to put more time into another business
Great potential to increase turn over
Licensed
Website to place orders
Good loyal customer base
Surround weekend trade that is not utilised
FOR FURTHER INFORMATION OR HELP REGISTERING ON OUR SITE, 
PLEASE CONTACT
John Mc Nabb 0499 550 577
AAA Market Services Business Agents
AAA Market Services are your local business agents, with years of experience in helping people buy and sell businesses. We trade as Network Infinity and have hundreds of great businesses for sale. Our network covers most of Australia. Contact us for some expert advice and let us help you through the difficult task of buying or selling a business. We are experts in getting seller a great price for their businesses. Why not start a conversation today, it will cost you nothing. It may save you lots of money.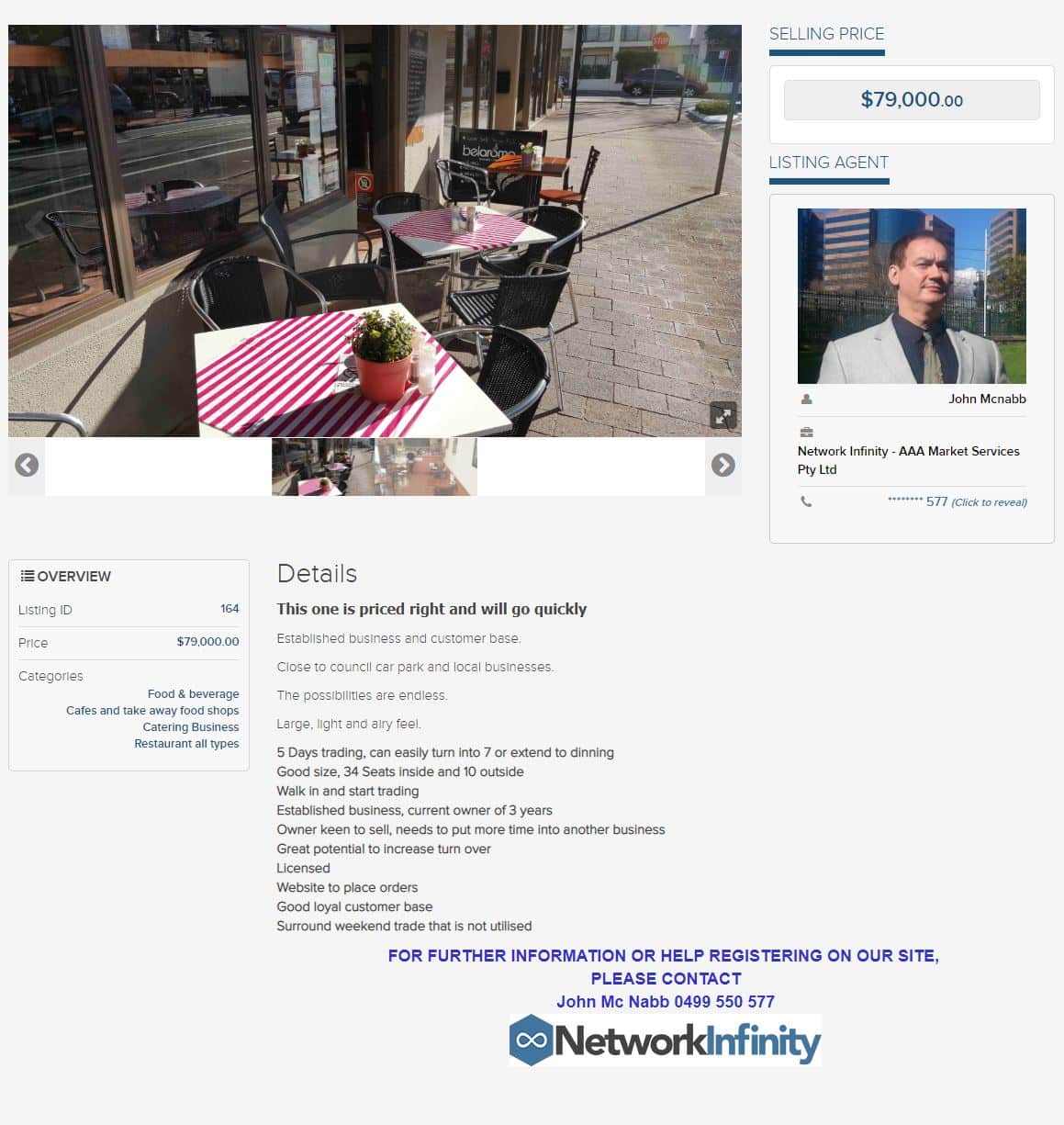 We advertise here Network Infinity
References
Why not ring us today 0499550577?
Other businesses for sale
multi award winning real estate business for sale in Newcastle NSW
Central Coast high quality hair salon business for sale in Newcastle NSW
and more