Sell business brokers agent Newington #1 buy value help
AAA Market Services
Sell business brokers agent Newington #1 buy value help
If you are looking to sell or buy a business. We can take the pain out of it for you. It is not easy buying or selling a business. That's why most people leave it to the experts. We take our time to get to know your business. Only that way can we really show case your business, so you can get the best price.
We don't cut corners, we do it the right way. Our upfront fees are low, so you really have nothing to lose. There is no more to pay until sold. We support you along your journey until settlement. Why not have a free consultation and see what we can do for you?
Here is just one example of a listed business.
This business is a little diamond in the rough, ready to be shaped by a new owner. This business is situated in one of the Lower North Shores most affluent suburbs, on a busy road with lots of foot traffic.
It's currently great little Mexican place which is crying out for an owner that can spend more time on the business. The takings are on the way up and it is offering some great food. This is a place that could be anything you like.
The possibilities are endless.
It has
Low Rent Which includes electrics
Turnover 7k per week and on the way up, loads of potential
Easy to operate kitchen in the shop
6 Days trading, can easily turn into 7
Good size, 30 Seats inside
Walk in and start trading
Owner keen to sell, needs to put more time into other businesses
Great potential to increase turn over
FOR FURTHER INFORMATION OR HELP REGISTERING ON OUR SITE, 
PLEASE CONTACT
John Mc Nabb 0499 550 577
AAA Market Services Business Broker
AAA Market Services are your local business broker, with years of experience in helping people buy and sell businesses. We trade as Network Infinity and have hundreds of great businesses for sale. Our network covers most of Australia. Contact us for some expert advice and let us help you through the difficult task of buying or selling a business. We are experts in getting seller a great price for their businesses. Why not start a conversation today, it will cost you nothing. It may save you lots of money.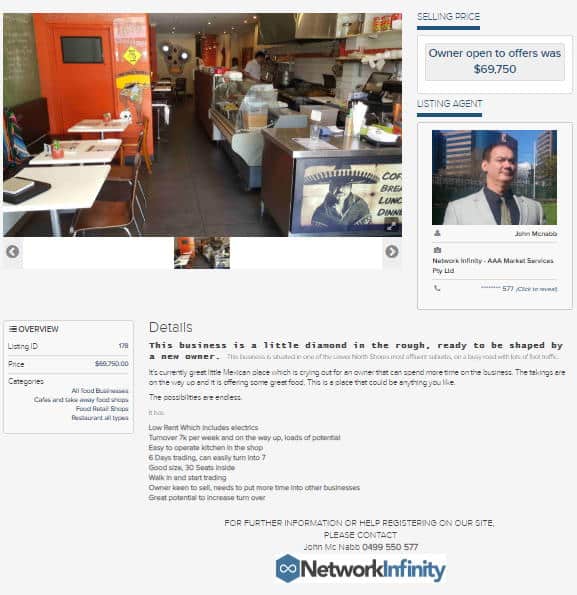 Sell business brokers agent Newington #1 buy value help
We advertise here Network Infinity
References
Why not ring us today 0499550577?
Other businesses for sale
real estate business for sale in Newington NSW
coffee shop business for sale in Newington NSW
sandwich bar business for sale Newington NSW
and more