Sell business brokers agent North Coast #1 buy value help
AAA Market Services
Sell business brokers agent North Coast #1 buy value help
In Sydney we all love the North Coast, a little warmer and relaxing. What more could you want? well you know you live there. We all love to come up in winter for a little warmth.
Now we don't forget about you so don't forget about us. If you are looking to buy or sell a business. Why not go fist class, your local broker just can't match us. We are part of a group of business brokers that help each other sell businesses. Perhaps that's one of the reasons that make us so successful?
If you are looking to buy or sell a business, why not talk to us? We offer obligations free consultations. Call us even if you want a bit of free advice.
Here is an example of just one listing.
Great looking and popular Italian restaurant for sale in the lower North Shore area.
Lots of surrounding businesses and parking.
Located in an affluent suburban setting with plenty of draw cards to the area.
Great exposure situated in front of a large supermarket with plenty of parking available.
The restaurant has an expansive bar, upstairs area for private functions, large commercial kitchen, separate cool a dry storage area, a secure car park, long lease, low rent, four x point of sale terminals, new air con, security system, office, private bathroom with shower and much more more. It is currently operating 6 nights per week and is closed Tuesdays.
The owner is motivated to sell.
Walk in and start trading. This is a must see .. and yes the stags head is included in the price.
High visibility
Large private dining area
Shopping centre car park at the rear
120 seats
Large bar area
Good size kitchen
Car space
6 Days
Licensed
Walk in and start trading
FOR FURTHER INFORMATION OR HELP REGISTERING ON OUR SITE, 
PLEASE CONTACT
John Mc Nabb 0499 550 577
AAA Market Services Business Brokers
AAA Market Services are your local business brokers, with years of experience in helping people buy and sell businesses. We trade as Network Infinity and have hundreds of great businesses for sale. Our network covers most of Australia. Contact us for some expert advice and let us help you through the difficult task of buying or selling a business. We are experts in getting seller a great price for their businesses. Why not start a conversation today, it will cost you nothing. It may save you lots of money.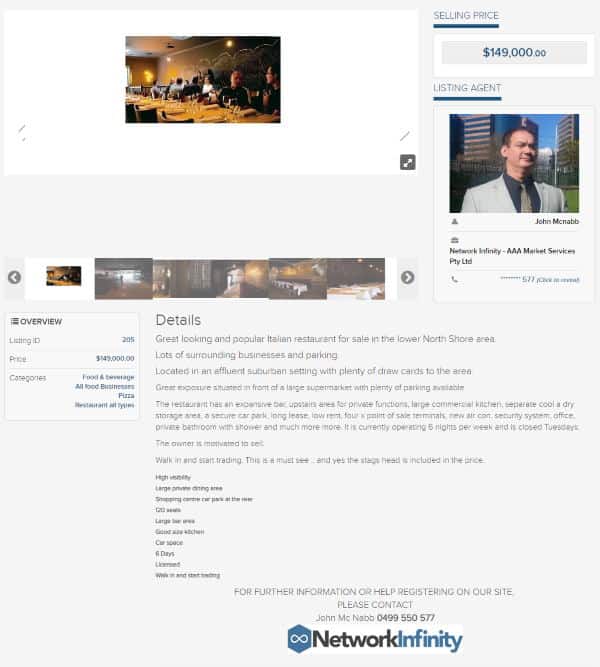 Sell business brokers agent North Coast #1 buy value help
We advertise here Network Infinity
References
Why not ring us today 0499550577?
Where is it selling?
Mid North Coast NSW
Coffs Harbour NSW
Port Macquarie
New South Wales
Northern Territory
South Australia
Western Australia
and more
What is selling?
Business opportunity
Post office business for sale
Import export wholesale
Industrial manufacturing
General store business for sale
Professional services and more professional services
Profitable business
Real estate businesses for sale
Home based businesses for sale
Leisure entertainment
and much more
Businesses for sale or business for sale mid north coast  NSW, talk to us today.