Sell business brokers agent Pyrmont #1 buy value opportunity
AAA Market Services
Sell business brokers agent Pyrmont #1 buy value opportunity
Sell business brokers agent Pyrmont #1 buy value oppertunity. If your business is in Pyrmont or the Sydney CBD, we can help you sell your business. If you are looking to acquire a business, we can help you. We have all sorts of businesses, from adult businesses to accountant. Many of the businesses are off market sales.
We are part of a network of business brokers that help each other sell businesses. Trading as Network Infinity we work as a team. Being a BNI member I know how teams can help each other achieve much, much more.
We are honest and upfront, we change a very low entry fee and then no more to pay until sold. We tell you how we see it rather than what you might want to hear. Offering free consultations, you really have nothing to lose by talking to us. Why not call us today?
An exapmle of just one listing
Successful modern clean looking Italian restaurant lower North Shore Sydney for Sale
This is really a great pick up for someone wanting to own a great restaurant, that is an institution in the area. The current owners have had it for 4 years and built it up from nothing. It's got great reviews on Google, Trip advisor, Facebook, and other sites. This is a family owned and run restaurant with a great reputation for food and hospitality.
Buy this and you will be picking up a great business that will continue to provide a good income stream and return on your investment. Currently, only open for dinner 6 days and Friday for lunch, closed Monday.
The kitchen is a chef designed kitchen, functional and can be operated with minimal staff, walk-in cool room, store room. The over all design is very tasteful, modern and elegant. The outside seating is under cover and sheltered from the elements. It's a good size with seating for 75, low rent, next to a large free three-level council car park and train station, fully licensed, 2 car parks on the title, great lease.
The owner is setting up another restaurant around an hours drive away, so the current customers will remain as extremely loyal and regular clientele.
There are so many pluses here it won't last long. Be quick or miss out.
For more information login and click on the green button that looks like this 
FOR FURTHER INFORMATION OR HELP REGISTERING ON OUR SITE, 
PLEASE CONTACT
John Mc Nabb 0499 550 577
AAA Market Services Business Broker
AAA Market Services are your local brokers, with years of experience in helping people buy and sell businesses. We trade as Network Infinity and have hundreds of great businesses for sale.
Our network covers most of Australia. Contact us for some expert advice and let us help you through the difficult task of buying or selling a business. We are experts in getting seller a great price for their businesses.
Why not start a conversation today, it will cost you nothing. It may save you lots of money.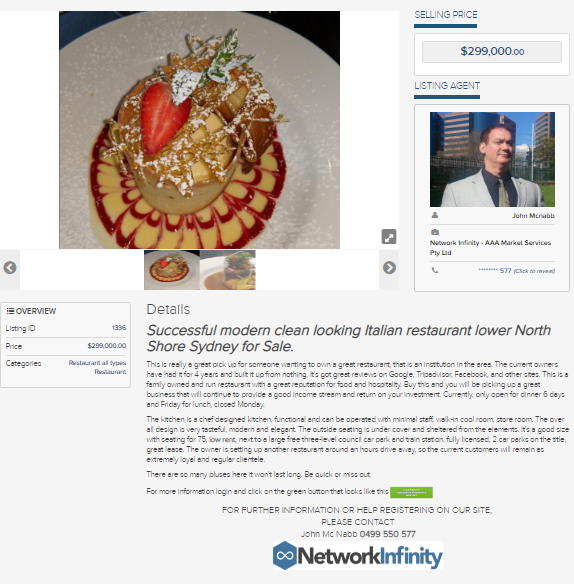 Sell a business New South Wales
We advertise here Network Infinity
References
Why not ring us today 0499550577?
Other businesses for sale
coffee shop business for sale in Pyrmont NSW
cafe espresso business for sale in Pyrmont NSW
cafe for sale food hospitality
and more