Sell business brokers agent Richmond 1 buy value opportunity
AAA Market Services
Sell business brokers agent Richmond 1 buy value opportunity
If you are a business owner or want to be one and you are in Richmond, we are the brokers for you. We service New South Wales and other states. Being a one stop shop to buy or sell a business or franchise.
We are part of a network of business agents that help each other sell businesses. I guess that's one of the reasons we are so successful. I am a BNI member and to go to weekly meeting and know 40 members are trying to get business for you. That shows you the benefits of team work.
If you are interested to sell or buy a business, why not have a chat to me today?
Here is an example of a great listing
Great opportunity to get into an adult services start-up for sale....
This sector of the adult services market place was previously dominated by an American player that has since left the market. Which means the market has become fragmented and is just waiting for a new player to start dominating the market. This is why this start-up is in such a good position. Three years of planning from the team of four has got it to this point. This really is an exciting opportunity!!!!!
The research has uncovered the Australian market is a $500 million market with this sector being $100 million of it. There are plans in place to within two years, extend and open to overseas markets.
Projections show a payback time of less than year and a half.
To get more details on this opportunity please login and click on the CA below and an IM will be forwarded to you.
For more information login and click on the green button that looks like this
FOR FURTHER INFORMATION OR HELP REGISTERING ON OUR SITE, 
PLEASE CONTACT:
John Mc Nabb 0499 550 577
AAA Market Services Business Broker
AAA Market Services are your local brokers, with years of experience in helping people buy and sell businesses. We trade as Network Infinity and have hundreds of great businesses for sale.
Our network covers most of Australia. Contact us for some expert advice and let us help you through the difficult task of buying or selling a business. We are experts in getting seller a great price for their businesses.
Why not start a conversation today, it will cost you nothing. It may save you lots of money.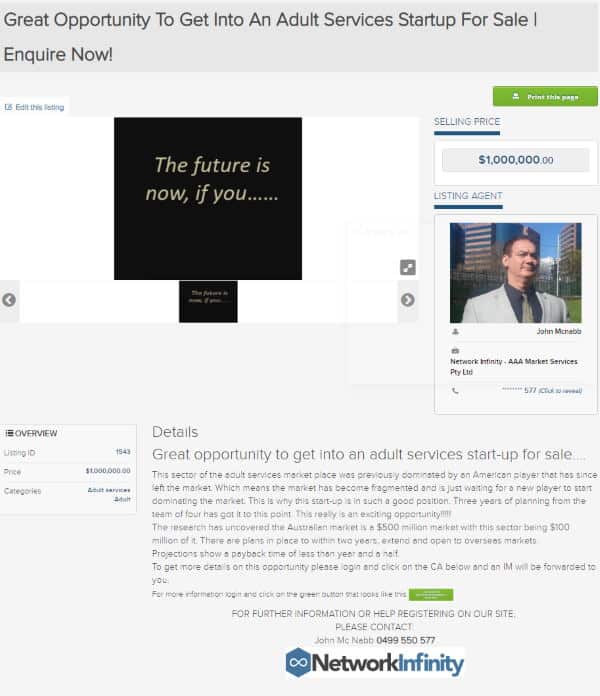 Sell business brokers agent Richmond 1 buy value opportunity
We advertise here Network Infinity
References
Why not ring us today 0499550577?
Other businesses for sale
health beauty salon business for sale in Richmond NSW
Richmond area Asian fusion restaurant business for sale, business opportunity
industrial manufacturing business for sale in Richmond NSW
Chinese restaurant business for sale Richmond NSW main road
franchise resale hair salon for sale Richmond business
home based established business Richmond Vic busy shopping centre busy location
franchises for sale great business model
and more business services