Sell business brokers agent Southerland #1 buy value help
AAA Market Services
Sell business brokers agent Southerland #1 buy value help
Sell business brokers agent Southerland #1 buy value help. We are looking for business owners that are wanting to sell their business near Sutherland. Or, people wanting to buy a business in the area. We are business brokers that service Sydney, New South Wales and beyond.
We are part of a network of business brokers that help each other sell businesses. In numbers there in strength, being a member of BNI I understand that. That is just one of the reasons why we are so successful.
We offer a very low entry level and then no more to pay until sold. It really is that simple, no hidden fees or charges. Selling your business without the BS. I offer free consultations, so you really have nothing to lose by talking to us.
An example of a past listing
Iconic rustic northern beaches cafe bar for sale Sydney
This bar cafe is a bit of an institution in this Northern beaches beachside suburb. There is a well-worn track that the locals follow to get to it and get back after a few cold ones in the late evening. This place has that wonderful cosy rustic feel to it.
Just a few blocks from the beach this is a locals hang out. Which means it has good trade in the winter. It is tastefully decorated with great artwork and has a welcoming family feel to it. It is known for its excellent food, coffee and bar. Being the owner of this establishment is not a chore but rather a lifestyle.
You will need to be quick as someone will fall in love with it and snap it up.
For more information login and click on the green button that looks like this
FOR FURTHER INFORMATION OR HELP REGISTERING ON OUR SITE,
PLEASE CONTACT
John Mc Nabb 0499 550 577
AAA Market Services Business Brokers
AAA Market Services are your local business brokers, with years of experience in helping people buy and sell businesses. We trade as Network Infinity and have hundreds of great businesses for sale.
Our network covers most of Australia. Contact us for some expert advice and let us help you through the difficult task of buying or selling a business. We are experts in getting seller a great price for their businesses.
Why not start a conversation today, it will cost you nothing. It may save you lots of money.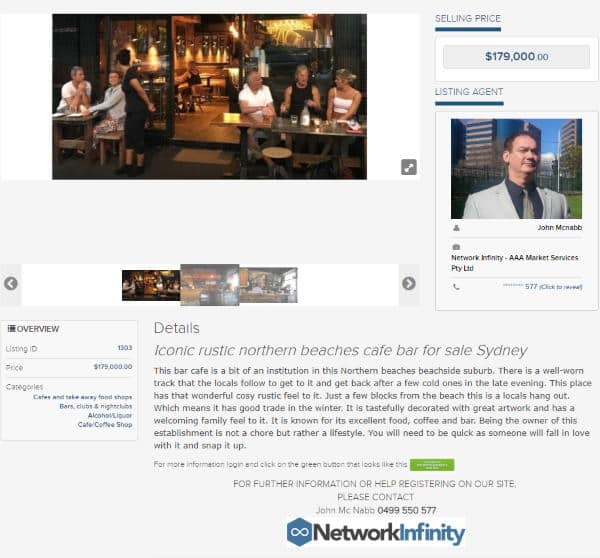 Sell business brokers agent Southerland #1 buy value help
We advertise here Network Infinity
References
Why not ring us today 0499550577?
Other business for sale
Cafe business for sale in Sutherland Shire NSW
It managed services business for sale in Sutherland Shire NSW
Property maintenance business for sale in Sutherland Shire NSW
and more